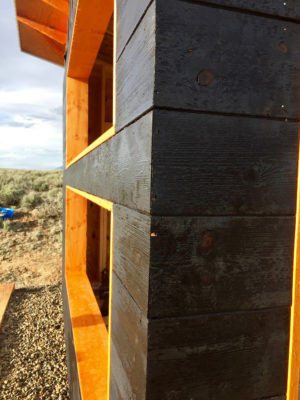 This 8×12 structure has long been on my to do list.  Each spring my wife, Lisa, prepares her seed starts for the summer garden.  Vegetables and flowers all in flats and under grow lights begin to appear on any available flat surface in our home.  Last year we had our guest bathroom turned into a tomato grow zone to the point we couldn't accommodate guests.
So, I finally realized just how much she needed a seed starting/general potting shed in the garden.  I began the project when we had some downtime between jobs and thought I'd just build a simple shed, but I had done some reading on Shou Sugi Ban, the Japanese technique of using charred wood siding and was curious to try it out.  I also decided to tilt the simple shed roof from corner to corner instead of flat across two opposing walls.  These choices give the small structure an interesting visual appeal and now the building has become a visual anchor in the garden.
I used regular #2 1×6 pine boards nailed to furring strips creating an open joint rain screen wall.  Before putting them up I charred them with a roofing torch, brushed off the surface and applied a coat of natural oil.  Sealing the boards is not actually needed, but I liked the nuanced color it gave the wood.  The resulting finish is heavily textured, like an alligator skin, and reflects the sunlight in a dazzling display of deep purples to flat black.