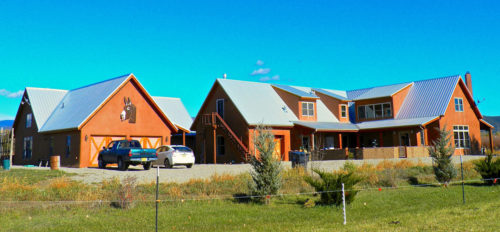 This was a special project for us.  The clients first approached us to build a straw bale home for them on their beautiful piece of property in Taos, NM.  This property includes grazing fields, wetlands and a beaver pond, a rarity in this area.  They came to us with a design done by an architect friend of theirs, we adapted the plan for straw bale construction and built the 3200 sq. ft. two story territorial style home complete with a lap pool.  The home is lovely.  Simple in it's finishes and with its open main floor plan it is warm and inviting with beautiful views of horses and donkeys grazing in the nearby fields, birds flying in the wetlands and the Sangre de Christo mountains to the north.
With the main house completed, the need arose for an equipment shed, which we built.  That led to building a bridge across a narrow river, a proper barn, a "donkey shed" which houses solar panels for a net metering system, and finally a straw bale Guest House.
During all of this building the clients have become good friends to both of our families.  We enjoy visiting with them on their beautiful new farm.